Updated: Feb 2020
Galveston is known across the US as one of Texas' top tourist destinations. It has something for everyone, including sandy beaches, a rich cultural heritage, and beautiful Victorian architecture. Visitors can easily spend hours wandering around the area admiring the architecture and enjoying the outstanding cuisine at the area's most famous restaurants.
Take a look at all that Galveston is known for below:
The Strand National Historic Landmark District
The Strand National Historic Landmark District is one of the most popular destinations for tourists and locals alike. If you are searching for a place that is rich in Galveston history, make sure The Strand is on your to-do list.
The Strand features unique retailers and intimate dining options. Don't miss wandering inside many of the historic buildings to see their unique architectural features including skylights in most.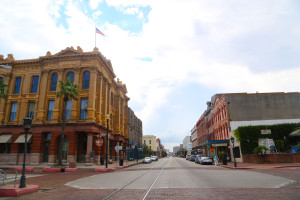 Architecture
Walking tours bring you past numerous historical buildings and homes that combine modern-day touches with the architectural heritage the area is known for.
You can enjoy the Victorian architecture that lines the streets, transporting you to another era. Visitors can also enjoy shopping in old-world charm by visiting Old Galveston Square.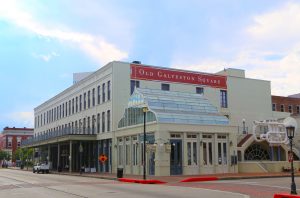 It was built in 1859, and is home to one several of Galveston's most loved retail shops including The Admiralty, Head to Footsies, Santa Fe Trail Jewelry, Rocky Mountain Chocolate Factory, and recently, G. Lee Gallery. Old Galveston Square also has office space for lease on its upper floors.
Event Venues
Galveston event venues offer historical charm and are located in several historical buildings. Spaces such as the Top Gallant Room, located in the center of the Strand District, offers you a unique space for your next big event.
Other event venues in the area include the event space at Riondo's in the Hutchings Sealy building, party rooms at each Pier 21 restaurant, and Saengerfest Park.
The Tremont House, one of the downtown area's only hotels, also offers event venues; and its proximity to The Strand makes it the perfect place to stay for those guests coming from out of town. If are looking for free things to do in Galveston, check this out.
The Food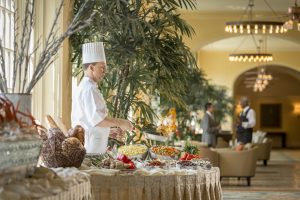 No trip to Galveston is complete without a stop at one of the area's many delicious restaurants. Head down to Pier 21 for Galveston's largest selection of entertainment and dining including Fisherman's Wharf, Willie G's, Olympia Grill at Pier 21. Complete your stay at the Harbor House Hotel, located right at Pier 21. The Hotel Galvez is famous for being the only Historic Hotel on the Texas Gulf Coast and features Texas' best Sunday Brunch.  The Hotel Galvez is one of Galveston's best known historic hotels.