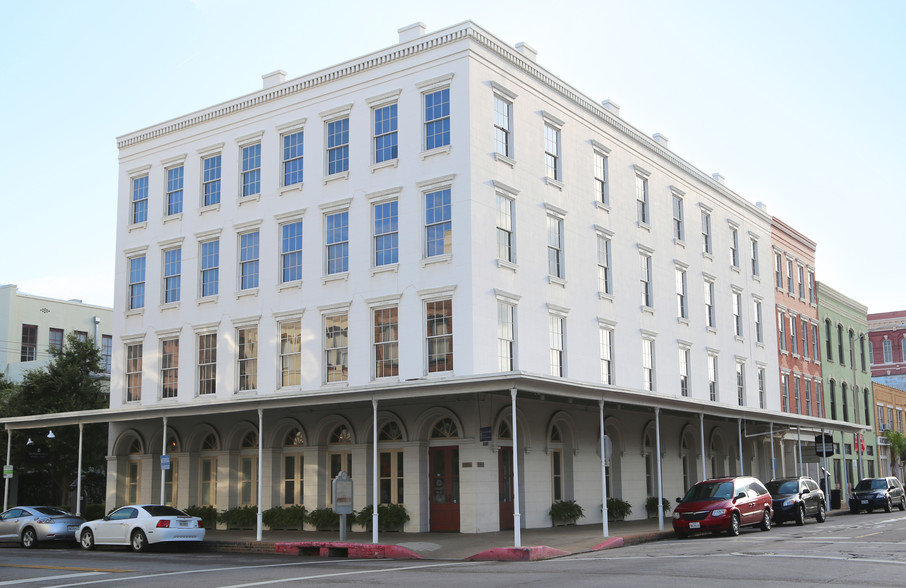 Like so many of the structures in downtown Galveston, the Washington Building has a storied past that dates back to the 1800s. Tucked into the center of the Strand National Historic Landmark District, the building has been witness to many of the most well-known moments, individuals, and businesses in Galveston history.
Today, the Washington Building is owned and operated by Mitchell Historic Properties. Within the walls that have stood for more than a century, a broad range of local businesses and organizations can be found. The building one of the most exclusive commercial properties for rent in historic Galveston, with a variety of office spaces available. 
A Historic Space that Houses Today's Modern Businesses
When the Washington Building was constructed in 1873, it was a four-story, sixty-room hotel called the Cosmopolitan. After a devastating fire that destroyed the city's beloved Washington Hotel in 1877, the Cosmopolitan was renamed The Washington in its honor.
Built-in the late Greek Revival architectural style, the structure boasts classically beautiful details and a marble-like exterior. Large French doors and arched fanlight transoms ensure an abundance of natural light inside, while the white exterior makes it one of the most recognizable buildings in Galveston.
Now, the Washington Building is home to the Galveston Chamber of Commerce, as well as Mills Shirley, the oldest law firm in Texas. And with a handful of offices available for rent, this historic landmark could soon be the place that your business calls home.
Commercial Office Spaces for Rent in Galveston's Washington Building
Currently, there are several third-floor offices for rent in the Washington Building, ranging in size from 341 to 406 square feet. Also located on the third floor are Executive Suites with a conference room, as well as a large kitchen available for use by all executive suite tenants. 
Features of the Galveston offices for rent in the Washington Building include:
Fully built-out spaces

Central air and heating

High ceilings

Ample natural light

Reception areas/kitchen in some units

Modern amenities

Updated designs and layouts
Coming Soon to the Washington Building
This spring, one of the newest restaurants in Galveston is slated to open its door from a beautiful location in the Washington Building. Expected to open in mid-March, The Garden Thai Cuisine Restaurant will be bringing global cuisine to the heart of the city's historic district. With a large outdoor dining courtyard surrounded by live oak trees, the restaurant will undoubtedly become a favorite lunch and dinner destination for locals and visitors alike. 
For potential tenants considering renting an office in the Washington Building, having The Garden Thai Cuisine Restaurant just steps away is a definite perk. Convenient and delicious lunches, relaxing meals with colleagues and clients, and comfortably shaded outdoor dining are all benefits to look forward to.
Discover More Commercial Space for Rent in Historic Galveston
There's no question that the historic Strand District is home to many of the most in-demand commercial properties in Galveston. Between the area's thriving economy, constant foot traffic, and friendly sense of community, there are many reasons to choose historic Galveston as a home base for your business.
Mitchell Historic Properties offers a diverse range of commercial properties and offices for lease in Galveston, providing you with a variety of options to suit your unique needs. Whether you're hoping to rent an office in the Washington Building or are interested in seeing our other available properties, our team is confident that we can help you settle into a space where your business can flourish. 
Contact Mitchell Historic Properties today for more information about commercial properties for lease in Historic Downtown Galveston.