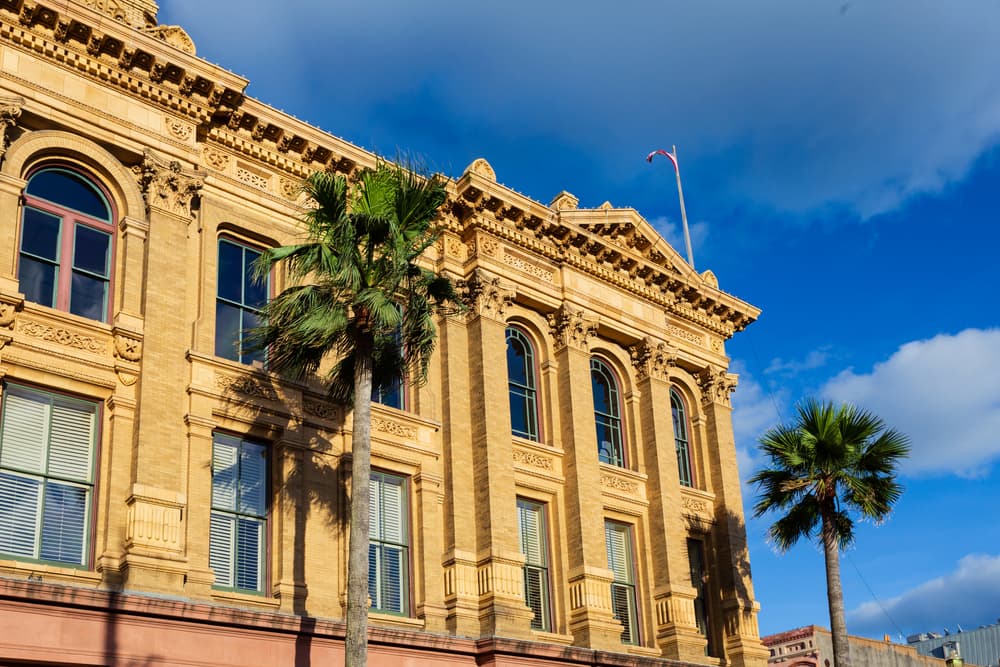 When it comes to commercial real estate in Galveston, there is nothing quite like the historic Hutchings-Sealy Building. Situated in what was known as the "Wall Street of the Southwest" in its heyday, this famous example of late 19th-century architecture is one of the most recognizable buildings in Galveston.
At first glance, it appears to be just a single structure; however, it is actually made up of two individual buildings that are cleverly interconnected. Four decades after joining in partnership, George Ball, John Henry Hutchings, and John Sealy employed prominent Galveston architect Nicholas J. Clayton to design office buildings for their Ball, Hutchings & Co. commission and banking operations. Built in 1895, the first of the pair was constructed on the corner for John H. Hutchings. Next to it is the "Sealy" building, originally built for John Sealy. As two of Galveston's most successful businessmen of the time, it only makes sense that Hutchings and Sealy would be the names proudly displayed on such a majestic structure.
Even to the inexperienced eye, it is easy to see that the Hutchings-Sealy Building is special. With its terracotta detailing, ornate stone cornice, and rusticated stone arches, it is a shining example of the Renaissance revival style. Shades of pink and gray granite, deep terracotta, and Texas red sandstone made the building stand out from its neighbors, while its imposing, six-foot-wide foundation walls can't help but command attention.
Inside, the aesthetic details uphold the legacy of an architectural talent that would make Nicholas J. Clayton a prominent name during his decades in Galveston. This element of historical interest is a perfect complement to the medley of modern businesses that lease commercial space in the Hutchings-Sealy Building today.
Leasing Property and a Piece of History at the Same Time
Like many of the structures owned and maintained by Mitchell Historic Properties, the Hutchings-Sealy Building has played a central role in the history of Galveston. For more than a century, it has been an architectural centerpiece and a beloved building in The Strand District, earning the appreciation of both locals and tourists alike.
Today, it stands as a symbol of the strength and resilience of the Port of Galveston; but even when it was first built, the stunning structure had a story to tell.
An architectural achievement and an icon of its era
The Hutchings-Sealy Building is considered one of the greatest creations of architect Nicholas Clayton, an Irish immigrant who arrived in Galveston in the mid-1800s. As an employee of the Memphis-based architectural firm Jones and Baldwin, Clayton traveled to Galveston to supervise two projects in the area (the Tremont Hotel and the First Presbyterian Church).
Almost immediately, he fell deeply in love with the charming city and decided to relocate here and start his own firm. After nearly two decades of calling Galveston home, Clayton would make his mark on the community: he was given the task of reconstructing the famous Hutchings-Sealy Building, which was originally a bank building that had lost its former glory.
Construction was completed in 1896, and the innovative structure became one of the many accomplishments that contributed to Clayton becoming one of the most famous Texas architects of the late 19th century.
A survivor still standing after 120+ years
One of the most notable features of the Hutchings-Sealy Building is that it has withstood some of the worst disasters in Galveston history. Much to the amazement of locals, it remained standing after the infamous 1900 storm, and it has managed to weather every hurricane since.
But despite the structure's tenacity, by the 1970s and 80s, it was in serious need of restoration. Philanthropists Cynthia and George P. Mitchell, founders of Mitchell Historic Properties, worked to restore and preserve the Hutchings-Sealy Building and many others throughout the Strand Historic District.
Now, the nationally acclaimed Strand National Historic Landmark District continues to be a source of pride for Galveston residents, and the Hutchings-Sealy building a hospitable home for several local businesses and organizations.
A Highlight of Galveston Commercial Real Estate: The Hutchings-Sealy Building
Once you're familiar with the rich history of this fantastic building, having the opportunity to run your business from within its walls may seem like a distant dream. However, it's entirely possible to secure a space in the Hutchings-Sealy Building; in fact, there are retail and office spaces available now. Located in the bustling Strand District and just a short stroll away from the famous Pier 21, the three-story Hutchings-Sealy Building is impressive on the interior, as well as the exterior. Distinctive interior design features include a wrought-iron and slate staircase, an oversized skylight, a glass floor on the second level, and even a glass elevator.
On the first floor, you'll find a restaurant and spaces for two retail tenants, while the second and third levels house two art galleries and multiple office spaces (including executive suites). For tenants, some of the many benefits to the spaces include useful features such as:
New HVAC units installed in 2017
Multiple workspaces within a single office space
Designated areas for reception, kitchen/break rooms, copy rooms, and/or file rooms
Electricity and standard maintenance included in leasing costs
High ceilings
Large windows and ample natural light
Hardwood floors (in certain spaces)
Built-in workstations in some spaces
As a tenant of the Hutchings-Sealy Building, you'll be in one of Galveston's most famous historical buildings. Centrally-located and well-known to virtually everyone that lives or visits the city, this commercial property is absolutely one-of-a-kind.
Discover Your Ideal Commercial Space for Rent in Galveston
Do you envision your business thriving in one of the charming and unique historic buildings for lease in Galveston? Can you picture serving a customer base of longtime locals and excited tourists alike, all of whom have a deep appreciation for the history and spirit of the city?
If so, then one of the Galveston commercial spaces for rent from Mitchell Historic Properties may be exactly what you've been searching for. We are proud to be a pillar of the community and a passionate proponent of historic preservation and economic development, with a broad range of retail spaces and offices available for rent in the Strand District. Our tenants range from lawyers and restaurateurs to government officials and insurance brokers, showing just how much potential for success awaits any business that wants to join the community.
For more information about our commercial properties available for lease in historic Galveston, please contact Mitchell Historic Properties today.
Featured Image: Patrish Jackson/Shutterstock