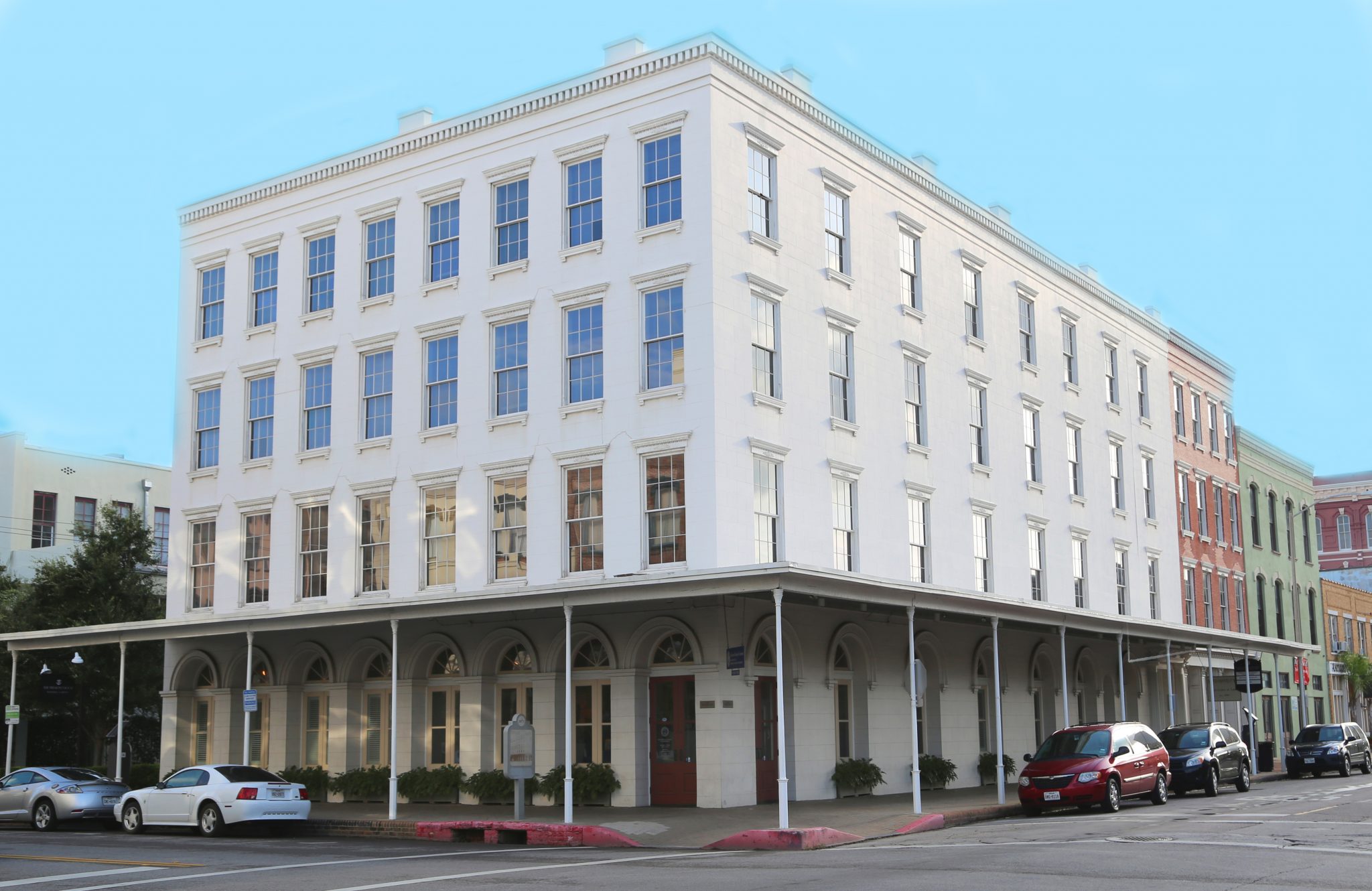 Historic, diverse, and beloved by generations, the city of Galveston has so much to offer both new and established business owners. A highly popular destination for day trips and extended vacations alike, the community is a flurry of friendly activity year-round. For Galveston restaurants, galleries, shops, and other businesses, the potential for success are promising.
For more than three decades, Mitchell Historic Properties has been a fixture of the Galveston community, serving both residents and business owners as a leader in real estate. And for both new and existing businesses, the Mitchell name is also associated with an exceptional selection of commercial real estate for lease in the Galveston area. 
Commercial Real Estate Highlights: Galveston Properties for Lease
Mitchell Historic Properties offers both office and retail/restaurant space for lease in Galveston, presenting an excellent range of options for your business, including:
The Hutchings-Sealy Building
Located in an attention-grabbing spot on the Strand, the Hutchings-Sealy Building consists of two conjoined buildings. Although the Hutchings-Sealy Building was originally built in the late 1800s, it has been updated with modern amenities for your convenience. Notable features include the enclosed glass elevator, a large skylight, the glass floor on the second level, and the stunning wrought iron and slate staircase, all reminders of the building's storied past.
The Hunter Building 
Constructed in 1877, the Hunter Building is a historic site equipped with first-class technology, including top-quality mechanical, electrical, and internet systems. A variety of businesses utilize the Galveston office space in the Hunter Building, taking advantage of conveniences such as reception areas, large conference rooms, and kitchen/break rooms. Other amenities include an adjacent parking garage and lot, making this corner property a true gem on Ships Mechanic Row and 22nd Street.
Old Galveston Square
As the epitome of historic downtown Galveston, Old Galveston Square is a centrally-located area that remains a favorite for locals and visitors alike. With four gorgeously-restored commercial properties to consider, the square is an outstanding option for retailers and offices alike. Built in 1859, the structure is easily one of the best-known sites in Galveston's Strand National Historic Landmark District. 
Pier 21
This waterfront highlight of Galveston boasts both entertainment and dining, with many spaces to consider for a business that aims to attract tourism traffic. Scenic views and a central location make Pier 21 an excellent spot with two restaurant properties for commercial rent.
The Heidenheimer Marine Building
Fully restored and renovated in 2015, this 1875 building is outfitted with a number of executive office suites. This feature makes the Heidenheimer Marine Building a prime option for physicians and attorneys who enjoy the benefit of an adjacent surface lot and parking garage. Although the facilities are completely modern, the building still retains lovely historic elements such as its high ceilings and hardwood floors.
The Dargan & Tobyn Building
For street-front retail space in Galveston, there are few better options than the Dargan & Tobyn building. Dominating the corner of 23rd Street and the Strand, this three-story building is a center of Galveston events including the famed Mardi Gras and Lone Star Rally in historic downtown.
Berlocher Buildings I & II
Counted among Galveston's earliest commercial buildings, this row of historic structures was constructed in the Greek Revival style. The three-story buildings feature beautiful architectural details and fully-operable north-facing doors, as well as a highly desirable location across from the Tremont House Hotel.
The Washington Building
One of historic Galveston's earliest hotels, the Washington Building now functions as three stories of office space with a large restaurant space on the ground floor. Ideal for small businesses, including attorneys and medical professionals, this Galveston commercial space is nestled in the Strand Historic District.
Grow Your Business in One of the Historic Commercial Properties for Lease in Galveston
House your business in one of the best commercial properties in Galveston, leased by Mitchell Historic Properties. Not only will you gain a well-suited business site with a rich history, but you'll also benefit from the professionalism and courtesy of Mitchell Historic Properties. 
Our historic commercial properties for rent are in high demand, with tenants including the Galveston Regional Chamber of Commerce, top-rated restaurants, art galleries, tourist attractions, investment firms, medical professionals, and so many more. Every one of our buildings has been restored according to the highest industry standards, earning awards from the National Trust for Historic Preservation and the Galveston Landmark Commission, among others. You can be confident that as a commercial lessee, you will have the security of a first-rate property and the benefit of an outstanding location and steady flow of traffic.
For more information about leasing commercial real estate in Galveston and working with Mitchell Historic Properties, contact us today.