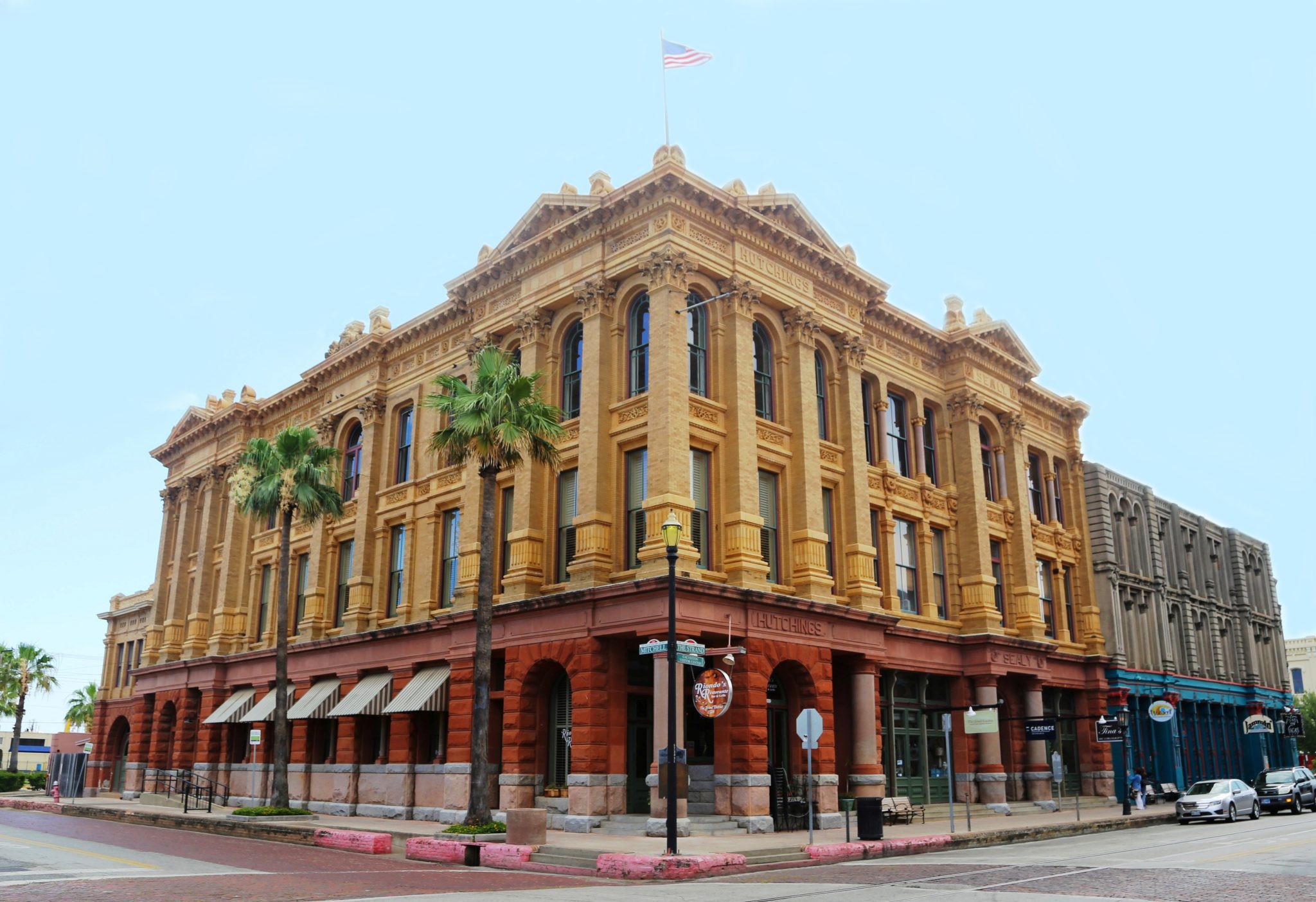 From the moment you lay eyes on Downtown Galveston, it is clear that it is a place that has a story to tell. Galveston's Strand District is one of the American South's most beloved destinations with a rich history and dozens of architectural highlights.
For business owners hoping to find a corner of the city to call their own, Mitchell Historic Properties offers an exceptional variety of commercial properties to lease. For years, we have worked diligently to restore the most treasured historic structures in the Strand District, preserving their history while modernizing them for today's business owners.
One of our most iconic properties is a delightful duo known as the Hutchings-Sealy Buildings, located on Strand Street, directly adjacent to Mitchell Avenue (24th street). This pair of properties has weathered countless storms in the 125 years since its construction and now stands as an outstanding commercial lease opportunity – the perfect place for your business to call home.
The Portal to Texas History
The Hutchings-Sealy Buildings were designed in 1895 by architect Nicholas Clayton, boasting a bold architectural style that made the structures one of Clayton's crowning career achievements. The design creates the illusion that the two interconnected buildings are a single three-story structure, as the eye is drawn to its magnificently ornate façade.
Made up of the narrow Ball, Hutchings, and Company bank building and the slightly wider John Sealy Office Building, the structure was completed in 1896. It instantly became a favorite on the "Wall Street of the Southwest," as Strand Avenue was referred to during that era.
When the Great Storm of 1900 wreaked havoc on the area, residents were amazed to see that the Hutchings-Sealy Buildings were still standing proudly.
Over the next century, the buildings would witness many moments in Texas history, both big and small. Originally, the structures served as host to Ball, Hutchings and Co., a banking and wholesale dry goods firm that was the only one of its kind in all of Texas. The influential firm relocated to Houston during the Civil War when the Port of Galveston was closed as a result of the Federal blockade. Ball, Hutchings, and Co. would undergo many reorganizations and mergers throughout the years, playing a pivotal part in the Galveston economy the entire time.
In 1985, Mitchell Historic Properties completed a full renovation on the Hutchings-Sealy Buildings. Features such as the oversized skylight and wrought iron and slate staircase were painstakingly restored, while modern amenities such as HVAC and high-speed Internet were added. Today, it exists as a collection of commercial and office spaces, each one an excellent option for local businesses in Galveston.
Nearby Places of Interest
Near the Hutchings-Sealy Buildings, you'll find many of Galveston's top highlights, including:
The Tremont House, one of the most famous historic hotels in Galveston;
Pier 21, a historic pier that features a dynamic mix of restaurants, hotels, and attractions, including the Texas Seaport Museum and the Pier 21 Theater;
The Galveston Railroad Museum, home to one of America's largest restored railroad collections.
Galveston Commercial Space for Lease in the Hutchings Sealy Buildings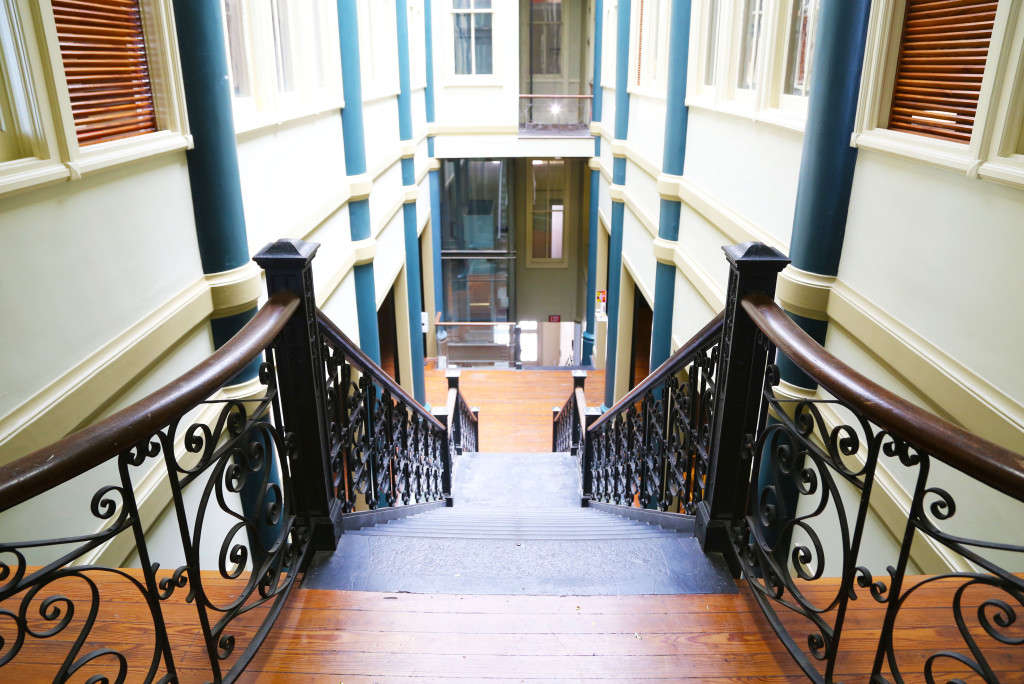 On the first floor, next to an established restaurant, there is a prime retail space available, while the second floor boasts two spaces typically used as art galleries. Additional commercial spaces in the Hutchings Sealy Buildings include office suites with separate workspaces, reception areas, break room space, and other elements of purposeful design.
Currently, the following options are available for lease:
First-floor retail space containing 3,302 rentable square feet.
Second-floor office suites range in size from 1,387 to 1,800 square feet, offering floor plans with a single office or divided workspaces. Amenities include beautiful views of the Strand Historic District and the inclusion of electricity and common maintenance.
Two second-floor retail or art gallery spaces for lease are presently available, one being conservatively-sized and the other on the larger end. In both, hardwood floors, moveable tract lighting and vaulted ceilings add a significant amount of style.
Third-floor office suites provide larger space for rent, ideal for businesses with a more substantial team or in need of extra space. The smaller of the two covers just over 2,200 square feet, with several workspaces divided by partial walls. A reception area and spare room (break room, copy room, or filing storage) are also included. The larger office for rent is over 4,400 square feet of contiguous space, located directly across the hall from the office noted above. Built-in work stations, a reception desk, a kitchen/break room, conference room, and private office are all included in this third-floor space.
Depending on your business needs, one of the currently open spaces in the Hutchings Sealy Buildings would be a wonderful match. Lease terms are flexible, typically ranging between three and five years (but open for negotiation). An iconic presence in Galveston's historic Strand District, the Hutchings Sealy Buildings can be an incredible home base for your business.
Join a Thriving Community of Businesses Leasing Commercial Space in Historic Galveston
Downtown Galveston offers a one-of-a-kind backdrop for your business, especially when you choose one of the charming spaces available for lease from Mitchell Historic Properties. Perfectly situated for the ultimate in convenience, steady foot traffic, and accessibility, our Galveston commercial spaces are an ideal fit for a broad range of business types and sizes.
The Hutchings-Sealy Buildings are just two of the properties we currently have available for lease, and we invite you to browse our full collection of lease opportunities to find the one that suits your needs. For more information about finding commercial space for lease in Galveston or details about one of our available properties, contact the Mitchell Historic Properties team today.
---
Leasing & Rentals in Historic Galveston | Mitchell Historic Properties
Historic Galveston
Learn More About Us